A new formula, a new success!
This past Saturday, the Brome-Missisquoi-Perkins Hospital Foundation was excited to host its first live BMP Oktoberfest since 2019. We are pleased to report that the turnout was great and the event was a success! Under the honorary presidency of Mrs. Solène Robitaille, Real Estate Broker at Remax Bromont, the event raised a magnificent $40,000 in net proceeds! Since launching this event in 2016, we have accumulated over $250,000 in profits! A heartfelt thank you to all the sponsors and participants who support the improvement of health care in Brome-Missisquoi!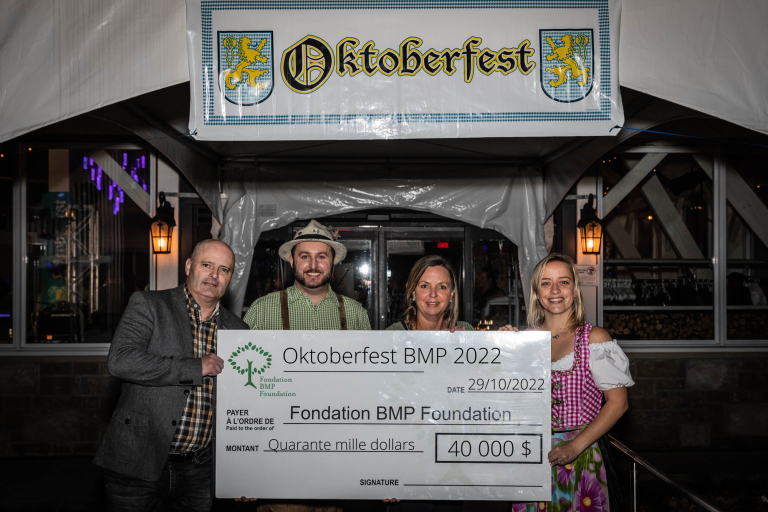 An enchanting new location
At the Domaine de l'Artisan, the maple sugar shack, the atmosphere was magical. Twinkling lights, lanterns, Bavarian flags and beer bocks ensured an exceptional evening. The Bavarian group The Wanderers were back to share their traditional German music. They even hosted a yodelling contest that surprised many.
Of course, the three local microbrewery bars were the center of attention, but by the end of the evening, the dance floor was still full. Many participants had decided to come dressed in traditional Bavarian style, which contributed to give the impression, for one evening, that we were not in Brigham but in the heart of Munich.
Delights and surprises
Of course, the participants enjoyed the delicious sauerkraut made by Marcel Picard du Saucisson Vaudois, the fresh pretzels of the day and the desserts prepared by the Domaine de l'Artisan. During the evening, they could also go to a photobooth and leave with a small souvenir photo! In short, it was a wonderful event, and the BMP Foundation is already looking forward to the 2023 event!
Medical Imaging Needs
Proceeds from this year's event will be directed to a special fund to address growing medical imaging needs. These projects will focus on improving functionality for staff and the patient experience during examinations.
Generous Partners
Thank you to BMP Oktoberfest 2022 presenter Desjardins for supporting us year after year. The BMP Foundation would also like to extend a warm thank you to all of our event sponsors: Au Coeur des Saisons, Barnes Home Hardware, le Bouquet de Knowlton, Bousada, the City of Bromont, CANAC, DJL, Eurovia, Familiprix Judith and François Marziali, LA-TELIER, Lebel Objet, Luminaire Authentik, Placements Jalfi inc, St-Pierre Tremblay Excavation and VOLTA Électrique
Thanks also to the collaborators of the meal who make this event a true gastronomic and gourmet meeting: Saucisson Vaudois, Domaine de l'Artisan, Bretzel & Cie, À l'Abordage, Knowlton Co. and Brouemont. Finally, thanks to our media partner M105.
The photos of the evening were taken by Danny Landry :