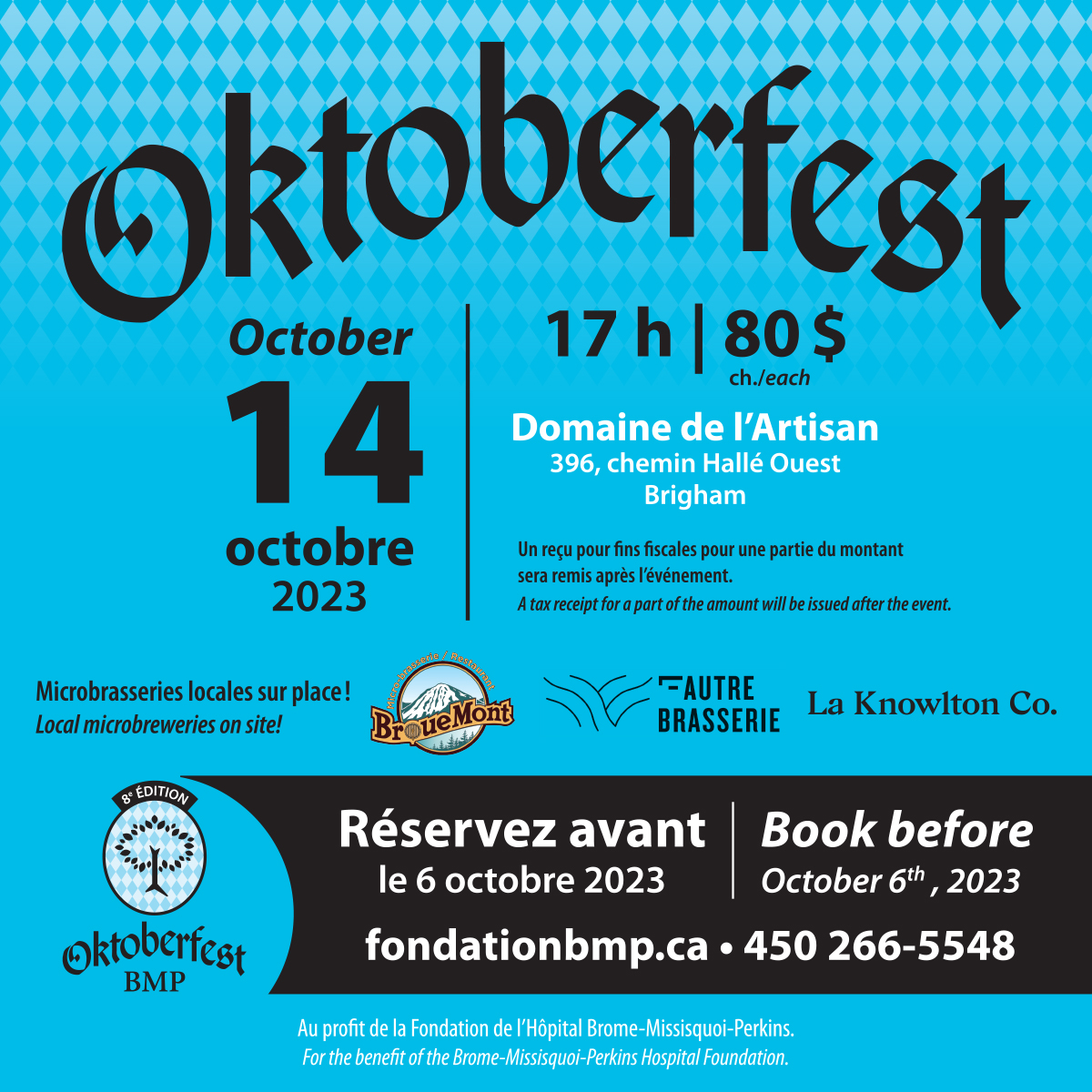 Date
October 14th, 2023
Location
Domaine de l'Artisan (396, Chemin Hallé, Brigham, QC, J2K 4J5
PARTICIPATE
BMP Oktoberfest 2023
The BMP Oktoberfest 2023 will be held on Saturday, October 14th!
The Brome-Missisquoi-Perkins Hospital Foundation is pleased to launch the 2023 edition of the BMP Oktoberfest! Our festive Bavarian event will be held on Saturday, October 14th, 2023 at Domaine de l'Artisan! All participants are expected to join us as of 5:00 p.m. for this festive and gourmet event, which will end at 10:00 p.m.
Tickets are on sale now at $80 per person. A receipt for a portion of the amount will be issued after the event. Interested parties have until Friday, October 6th to make their reservations by clicking below. Please notify us of any allergies or dietary restrictions directly via our online form or by phone at 450 266-5548.
An enchanting venue
Just like last year, the Domaine de l'Artisan's permanent marquee is the place to be for fans of sauerkraut, beer, and Bavarian music. More spacious than the previous venue, the Domaine de l'Artisan allows for people to better circulate on a wild dance floor! The delicious sauerkraut and sausages are once again prepared by Marcel Picard, owner of Saucisson Vaudois. Michel Thibodeau, owner of Domaine de l'Artisan, will oversee the potato salad and dessert. The pretzels will come straight from Pretzels and Co. in Montreal. A gingerbread-flavoured cookie prepared by Les Macarons de Nathalie (Sutton) will be offered to participants at the end of the event. Yum, we're already hungry!
Three local microbreweries will be on hand to serve up a range of refreshing beers. Choose from a variety of beers from Brouemont (Bromont), La Knowlton Co. (Knowlton) and L'Autre Brasserie (Bedford).
In addition to all these treats, a draw will allow participants to win numerous sports-related, decorative or local prizes. Tickets will be on sale during the event.
Two decentralized automated cabinets
This year, all raised funds at our events and solicitation communications will be used to help fund two decentralized automated cabinets of the BMP Hospital Pharmacy. This project complements an initiative launched by the Department of Health and Human Services in 2013. To secure the storage and administration of medications on critical and high-volume care units, decentralized automated cabinets have been installed in several BMP Hospital departments.
The BMP Foundation wishes to continue to secure pharmaceuticals in two other departments that have a high use of identified hazardous drugs and narcotics: the Birthing Pavilion and the Operating Room. The acquisition of these two decentralized automated cabinets and the training of staff in the use of this new equipment represents a total investment of $171,000. Did you know that medication errors account for more than 50% of reported incidents in Quebec hospitals? By participating in the BMP Classic, you are helping to minimize these errors at the Brome-Missisquoi-Perkins Hospital. Thank you for your participation!
Generous partners
Thank you to the presenter of the BMP 2023 Oktoberfest, Desjardins, for supporting us year after year. The BMP Foundation would also like to extend its warmest thanks to all the event sponsors: la Ville de Bromont, Excavation St-Pierre et Tremblay, Familiprix Judith et François Marziali, Barnes Home Hardware, La Ville de Brigham, Toitures Smith & Dubois Inc, Au Cœur des Saisons, Construction DJL inc. and Sébastien Kaempf, real estate broker at REMAX.
Thanks also to our collaborators who make this event a true gastronomic and gourmet event: Saucisson Vaudois, Domaine de l'Artisan, Bretzel & Cie, Le Sage Brasseur, La Knowlton Co., Brouemont and Les Macarons de Nathalie. Finally, thanks to our media partner M105.