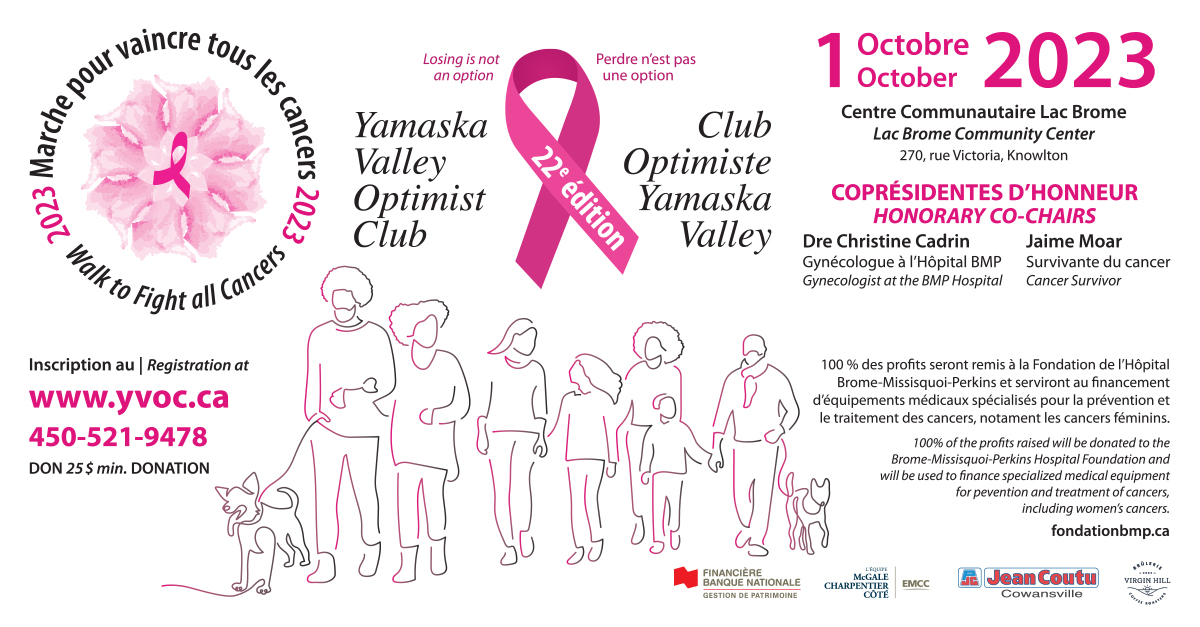 Date
October 1st, 2023
Location
Lac-Brome Community Centre (270 Rue Victoria, Knowlton, QC J0E 1V0)
PARTICIPATE
Walk to Fight All Cancers 2023
The Yamaska Valley Optimist Club and the Brome-Missisquoi-Perkins Hospital Foundation are pleased to announce the return in person of the Walk to Fight All Cancers!
Participants are invited to join us on Sunday, October 1st, 2023, at 9:30 a.m. at the Centre Communautaire Lac-Brome for either a 5 or 10 km walk.
Alternative
This year, the Yamaska Valley Optimist Club will be offering a great alternative for participants who don't want to walk, or are undergoing cancer treatment. Yoga teacher Laura Hernandez will be present to offer an adapted class during the event. A rest tent will also be set up.
We would like to thank the honorary co-chairs for holding dear the cause of the Walk to Fight All Cancers: Dr. Christine Cadrin, gynecologist at BMP Hospital and cancer survivor, and Jaime Moar, cancer survivor. Thanks also to the two Walk leaders, Johanne Coiteux and Louise Gelinas, and to Judy Henderson, president of the Yamaska Valley Optimist Club.
Thank you to the sponsors of the Walk to Fight All Cancers: Pharmacie Jean Coutu Julie Coderre and Team McGale-Charpentier-Côté from National Bank Financial for their commitment to the cause.
Registration
We invite you to register online by clicking below. A minimum contribution of $25 is required for each registration.
Visit WWW.YVOC.CA to download and print pledge forms and create your fundraising page.
You can download the pledge forms here: Pledge form
These are also available at the following locations: Le Panier Champêtre, Royal Lepage (Knowlton), Nettoyeur Houle, Pharmacie Jean Coutu (Cowansville) and Clinique médicale Bromont (Bromont).
On the day of the event, you can choose between the 5 or 10 km course. This is an activity for everyone, so feel free to bring your kids, your family, or your dog!
Equipment renewal
This year, funds raised during the Walk will contribute to renewing equipment used in the treatment of cancer patients. Since the creation of the Walk in 2001, the Yamaska Valley Optimist Club has raised close to $1,250,000. All this money has been used to provide cancer patients with modern, state-of-the-art facilities.
For more information, please contact Louise Gélinas at (450) 521-9478.