Brome-Missisquoi-Perkins Hospital Auxiliaries
Soon after the creation of the Bedford District General Hospital, several local women realized that their hospital needed help. In 1917, they decided to found the Bedford District General Hospital Association, better known as the Ladies Auxiliary and later as the Women's Auxiliary. To cover the hospital's needs, they organized fundraising activities, with proceeds used to purchase coal for heating, furniture for rooms, linen, clothing, equipment and medical devices.
Until the early 1940s, the Women's Auxiliary held an annual garden party in the park in front of the courthouse. This event attracted hundreds of people. Although the role of the BMP Auxiliaries has changed greatly, their dedication has remained the same.
In 1955, they opened the Boutique in the hospital lobby. Offering patient essentials such as first-aid products, shawls and books, the Auxiliaries Boutique also offers wonderful gift ideas and treats. As well as running the day-to-day business of the Boutique, volunteers also organize fundraising events on special occasions. The money collected is used to purchase medical equipment and other items that benefit patients.
In the 1980s, the Women's Auxiliary became the BMP Hospital Auxiliary since men have joined them. For over 100 years now, the BMP Hospital Auxiliary has volunteered time and energy for the well-being of patients, visitors and staff.
As our two organizations were already working towards the same goal, it made sense to bring us together, reducing the burden and administrative costs of the auxiliaries. We aim to bring the Boutique and its activities into a modern era. Already, a new cash register has been installed, allowing card payments, and a new brand image has been created for the Boutique. Nicole Arbour, volunteer manager of the BMP Hospital Auxiliaries Boutique, is now a member of the BMP Foundation Board of Directors, ensuring effective communication and unification.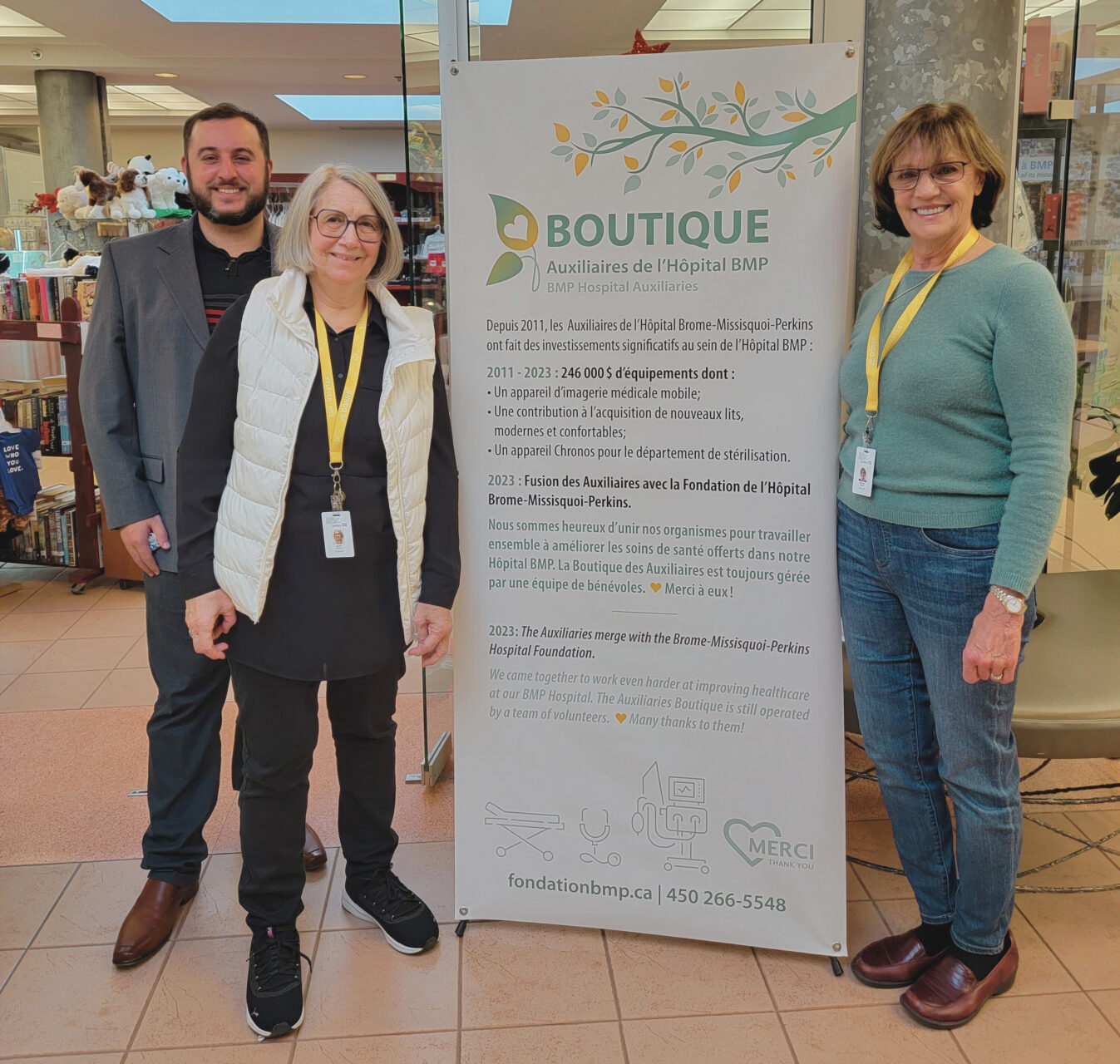 History
Since 1954, the Brome-Missisquoi-Perkins Hospital Auxiliaries have contributed to major acquisitions for the BMP Hospital for a cumulative amount of over $800,000!
From 1954 to 1979: $100,793, invested in, among other things:

Gyneco-obstetrical equipment;
Gastroscopes;
A fetal unit.

From 1980 to 2000: $229,682 used, among other things, to acquire :

An electrocardiograph;
Two mammography machines;
An electrocardiogram.

2001 to 2010: In 10 years, $231,835 invested, among other things, in :

A radiolucent surgical table;
Sterilization equipment;
Acquisition of a new digital mammography unit and biopsy table.

From 2011 to 2023: $246,000 worth of equipment, including :

A mobile medical imaging unit;
A contribution to the acquisition of new, modern and comfortable beds;
A Chronos machine for the sterilization department.

2023: The Auxiliaries merge with the Brome-Missisquoi-Perkins Hospital Foundation.
We came together to work even harder at improving healthcare at our BMP Hospital. The Auxiliaries Boutique is still operated by a team of volunteers. Many thanks to them!