Scholarships
In order to stimulate the interest of young people in our region towards health sciences, and more particularly within the BMP Hospital, the Foundation has developed several programs:
School bursaries (High School)
The Foundation also supports the local high schools to provide awards of excellence for graduate students who wish to continue their studies in the healthcare. Students are selected by their school.
2022 Winners : 
École Massey Vanier, Cowansville (English) : Amelia Macey and Shayne Paige.
École Massey Vanier, Cowansville (French) : Arya Azimy and Claudia Geoffroy.
École Jean-Jacques-Bertrand, Farnham : Jeanne Santerre.
École Wilfrid-Léger, Waterloo : Kelly Gagnon, Mia Larocque-Lebeau and Mia Paré-Gosselin.
BMP scholarships program (Cégep)
In 2023, the BMP Foundation, with the support of the Chawkers Foundation, is pleased to double the scholarships offered for a total of four BMP Scholarships!
The BMP Scholarship – Healthcare is open to graduating students from Brome-Missisquoi high schools who are pursuing studies in health care.
The BMP Scholarship – Nursing targets future nursing students only and encourages young people to get involved in this environment that is currently in need of workers.
The four scholarships offer an amount of $2000, renewable annually throughout the student's college program, for a maximum of three years (total amount of $6000). The four scholarships winners will be selected by a Selection Committee composed of a director of a school institution, a BMP Hospital staff member and a person from the community.
To register, here are the documents to have in your file
The duly completed registration form;
Confirmation of admission to a college program (CEGEP) or a DEP (CRIF) in the field of health care or nursing;
A cover letter;
A letter of recommendation from an academic source;
An official transcript from the Ministry of Education;
School report cards for the year preceding the request and for the current year.
Applications for the 2023 scholarships are open until April 7th, 2023.
The BMP Hospital Foundation sincerely thanks the Chawkers Foundation for their support towards the students of the area!
BMP Scholarship Presentation and Application Form
2022 Winners:
BMP Scholarship – Nursing: Charlotte Hivon
BMP Scholarship – Healthcare : Charlie Lottinville
BMP Scholarship – Coup de cœur : Mia Tétreault
Effie Margaret Côté Scholarship (University)
In November 2020, we were pleased to introduce a brand new bursary offered by the BMP Foundation: Effie Margaret Côté Scholarship. This important bursary of $10,000 will be awarded to a nursing student or a current health care worker who is continuing his/her education at the university level.
Applications for the 2023 scholarships are open until April 7th. All information about the scholarship can be found in this document Presentation and Form.
A long-time volunteer, Effie Margaret Côté has been involved with the BMP Hospital for over 30 years. Passionate and dedicated to her community, this scholarship is a testament to her continued support of the BMP Hospital. Throughout her life, Effie has been a dedicated volunteer. During World War II, she began volunteering with the Women's Catholic League to provide hot meals to soldiers. Upon her arrival in our area, Effie became an active volunteer with the BMP Hospital Auxiliary and the Knowlton Wellness Project. Appointed to the BMP Hospital Board of Directors from 1982 to 1984, she received the International Women's Day Award from the Yamaska Valley Optimist Club in 2008. She was also named BMP Hospital Volunteer of the Year in 2009.
Effie Margaret Côté is now 98 years old. She lives independently in her Knowlton apartment and leads a very active life with five children, eight grandchildren and six great-grandchildren. Two years ago, she got her driver's license and purchased a new car. As a tribute to their mother's remarkable life, her children decided to establish this annual $10,000 bursary with the BMP Foundation.
Effie Margaret Côté Scholarship Presentation and Application Form
Lauréat 2022 :
Effie Margaret Côté Scholarship: Élodie Couture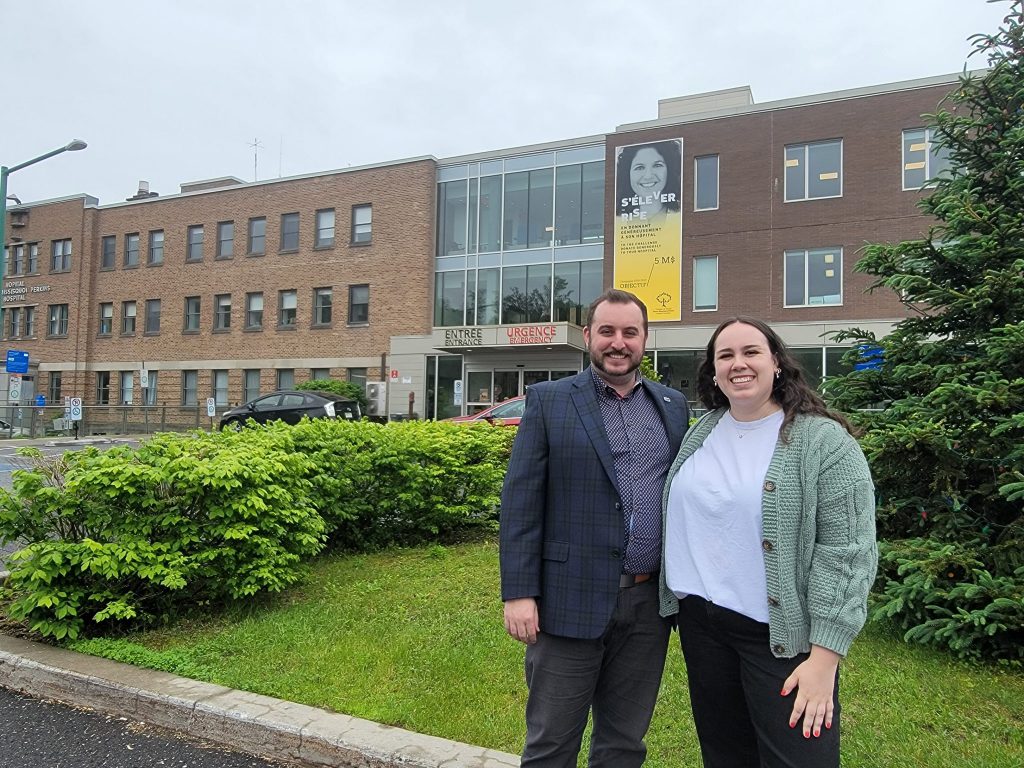 Student visits
The BMP Foundation organizes guided school visits for students at the end of their course from the four regional high schools to enable them to discover career opportunities in the healthcare field at the BMP Hospital. Each year, 60-70 students go on these one-day visits and are exposed to careers in medicine, nursing, laboratory, pharmacy, physiotherapy, occupational therapy, medical imaging, and respiratory therapy.
In 2021, because of the current pandemic, we unfortunately had to suspend school visits.
Student testimonials
"Thank you very much for this unique opportunity. I truly enjoyed this visit since it confirmed my will to pursue my studies in the field of healthcare.  It allowed me to discover other occupations little or not known to me. Thank you so much!" – Félix Roberge
"Thanks to the visit, I have now made a final decision on my college field of study. Thank you very much!" – Alexandre Roy
"I loved the fact that Dr. Pincott is still passionate about his former job as a doctor. This shows me that it's possible to be passionate about your work." – Alexia Larose