Even the sun was out for La Classique BMP 2023!
The Brome-Missisquoi-Perkins Hospital Foundation is very pleased to announce the results of La Classique BMP! On Wednesday, June 14th, all cyclists, and golfers from Brome-Missisquoi attended the Cowansville Golf Club. Thank you to Desjardins for agreeing to present this event, which has been part of the BMP Foundation's history since its inception 30 years ago. Thanks also to Ian-Alexandre Lavoie, General Manager of Transforce Beltal Inc. for his presence and motivation as Honorary Chair of La Classique BMP 2023!
Thanks to the 176 participants, sponsors and silent auction contributors, this event raised $63,000 in proceeds! THANK YOU to all!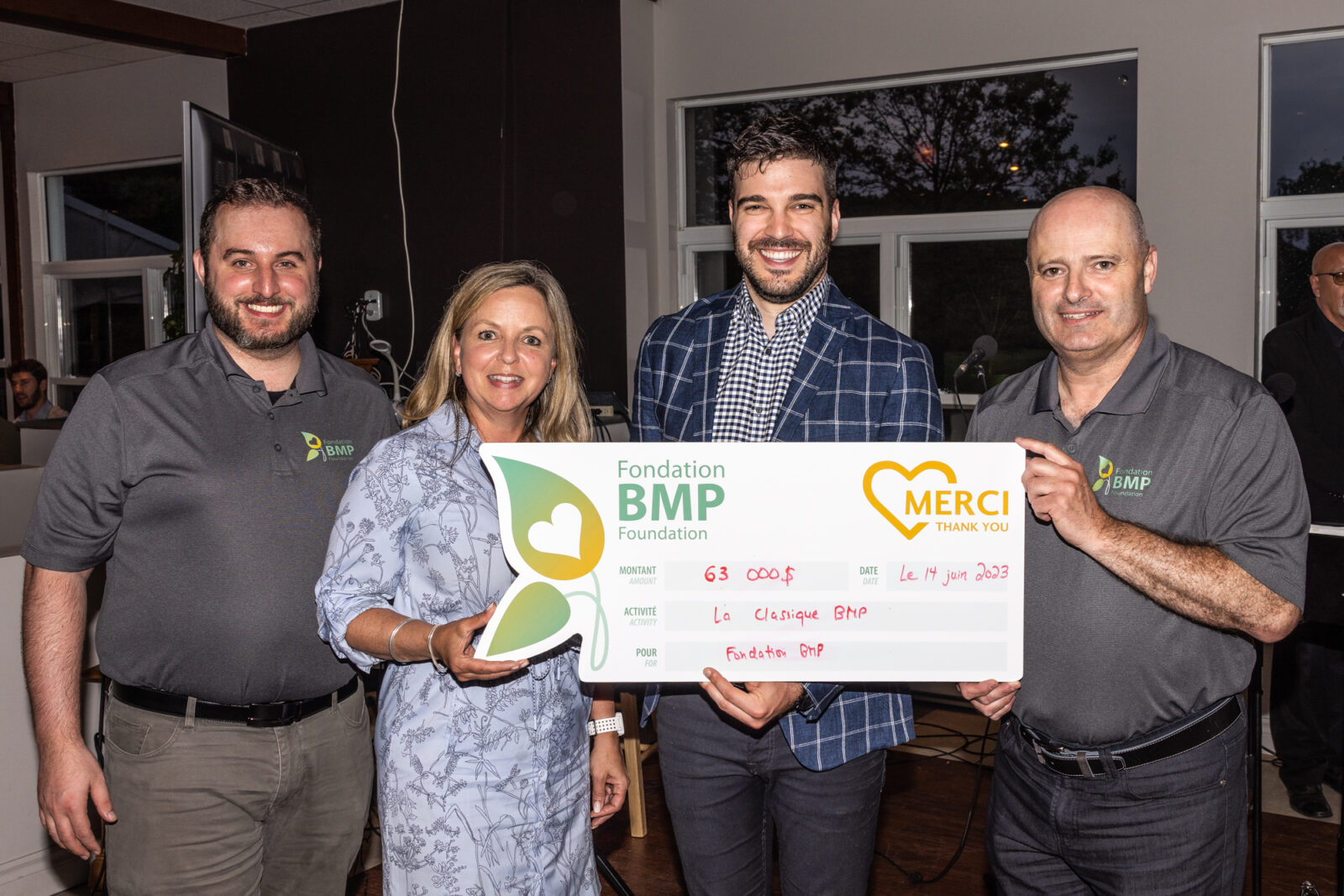 Activities enjoyed by all participants!
This year, the participants were particularly pampered. The cyclists, supervised by the experienced instructors of the National Cycling Center of Bromont and the radio broadcaster Yvan Martineau, had the chance to participate in a private guided tour of the new CNCB velodrome. The golfers were not left out. They were able to taste the delicious smoked meat sandwiches offered by Gosse.lin Smokehouses of Cowansville, a refreshing beer from Knowlton Co., and some bites from Allard Traiteur located in Farnham and a barbecued hot dog prepared by the Desjardins team. Sparkling maple water from Ô de Sève of Brome Lake was also offered to all participants at the brunch and the cocktail.
All the participants enjoyed this sporty day, which was spiced up with a few surprises! They were happy to see the return of a traditional fundraising formula, with a brunch, an activity, a three-course dinner, and a silent auction. Thanks to Yvan Martineau for his colorful entertainment at dinner!
Two decentralized automated cabinets
This year, all funds raised at our events and solicitation communications will be used to help fund two decentralized automated cabinets of the BMP Hospital Pharmacy. This project complements an initiative launched by the Department of Health and Human Services in 2013. To secure the storage and administration of medications on critical and high-volume care units, decentralized automated cabinets have been installed in several BMP Hospital departments.
The BMP Foundation wishes to continue to secure pharmaceuticals in two other departments that have a high use of identified hazardous drugs and narcotics: the Birthing Pavilion and the Operating Room. The acquisition of these two decentralized automated cabinets and the training of staff in the use of this new equipment represents a total investment of $171,000. Thank you to all participants of La Classique BMP for helping to make medication management safer!
Thank you for supporting La Classique BMP!
We would like to thank event presenter Desjardins as well as all the sponsors: Volta, Graymont, Doyle, Sotheby's Groupe Barsalou Meunier, Bessette Automobiles, Uniprix Cowansville, Migué & Fournier and Lagacé Ébéniste.
Thanks also to all the collaborators of our silent auction: Susan Keays Kreations, UNGAVA, Rotoplast, Val Caudalies, Canoë et Co, Virgin Hill, Nouvelle Épicerie, Auberge West Brome, Théâtre de Lac-Brome, Anne-Marie Chagnon, Isabelle Daval – peintre, Sanders Pinault – Artiste, Bromont, montagne d'expérience, Dr. Robert S. Pincott, Studio Studio Studio, Bromont. Robert S. Pincott, Studio Nala photographe, Le Panier Champêtre, le Bouquet de Knowlton, Solstice Sauna, Euro-spa, La Bodega, Raffields Centrale, Bijouterie Deschamps, Vitalité Sureau, Domaine Château Bromont, Espace Diffusion, LB Avocats Inc, Le Groupe Ultra, Le Diable Vert, Ici et Là, Dépanneur Carrefour 74, Gallery Hors-Cadre and Brome Bird Care.
Finally, we would like to thank the partners of the event: SAQ, Centre National de Cyclisme de Bromont, Gosselin Smokehouses, Knowlton Co, Allard Traiteur, Ô de Sève, Deragon and Amaro.
The BMP Foundation would also like to thank the Cowansville Golf Club for its hospitality and collaboration, as well as the two professional golfers present on the driving range in the morning to offer advice to participants, Mr. Maxime Paiement and Mr. Pierre Dugas.
Thanks to photographer Danny Landry, who ran around trying to capture all the action of the day!