Superb bavarian evening for the BMP Foundation
The entire team at the Brome-Missisquoi-Perkins Hospital Foundation enjoyed a wonderful evening, surrounded by numerous donors and partners, at its BMP Oktoberfest last Saturday. Thanks to the 275 participants and sponsors, we are pleased to announce a profit of $34,000! THANK YOU to everyone! Thank you to event presenter Desjardins for supporting Fondation BMP for 30 years!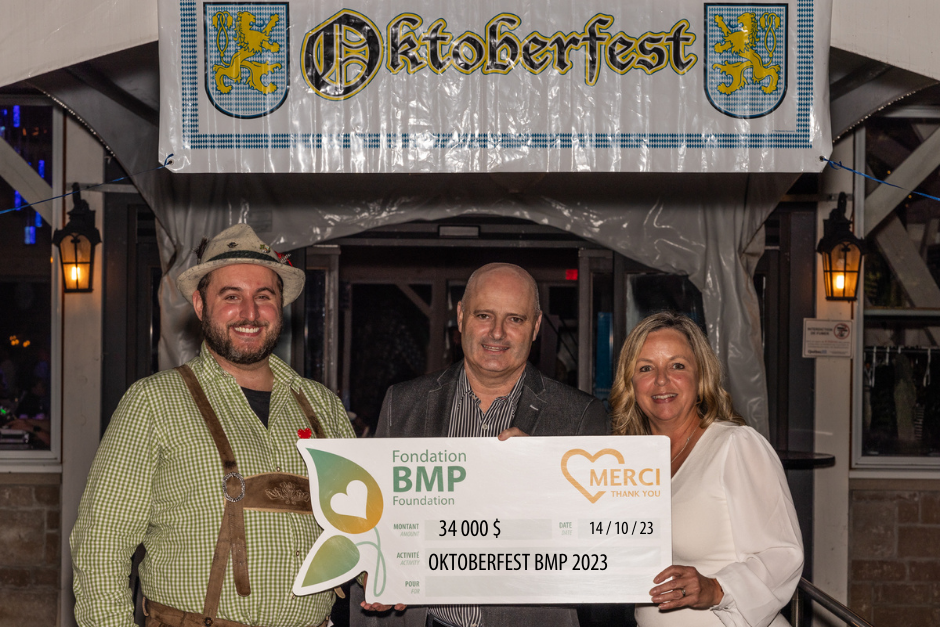 For the second year, the BMP Oktoberfest was held under the permanent tent at Domaine de l'Artisan. Owner Michel Thibodeau pulled out all the stops to welcome participants in the most authentic atmosphere possible. Thanks to him, and to Marcel Picard, owner of Saucisson Vaudois, who prepared the delicious sauerkraut, sausages, and incredible ham. The meal ended with a wonderful apple cake and coffee generously donated by Virgin Hills Coffee Roasters. Thank you.
Thanks to the three microbreweries on site: Brouemont (Bromont), Knowlton Co. (Knowlton) and L'Autre Brasserie (Bedford).
We'd also like to extend our warmest thanks to all our event sponsors: the City of Bromont, Excavation STR and St-Pierre et Tremblay, Familiprix Cowansville Judith and François Marziali, Barnes Home Hardware, the City of Brigham, Toitures Smith & Dubois Inc, Au Cœur des Saisons, the City of Bolton-Est, Construction DJL inc. and Sébastien Kaempf, real estate broker at REMAX. Thanks also to our media partner M105.
Raffle tickets were on sale during the event and helped us raise this handsome sum. We'd also like to thank all the businesses that donated prizes for the draw: Maison de la culture de Waterloo, Madame Fortin, Ungava, Balka, BMR Bromont, Atelier Bouffe, Brome Lake Books and Brome Bird Care.
Two decentralized automated cabinets
This year, all raised funds at our events and solicitation communications will be used to help fund two decentralized automated cabinets of the BMP Hospital Pharmacy. This project complements an initiative launched by the Department of Health and Human Services in 2013. To secure the storage and administration of medications on critical and high-volume care units, decentralized automated cabinets have been installed in several BMP Hospital departments.
The BMP Foundation wishes to continue to secure pharmaceuticals in two other departments that have a high use of identified hazardous drugs and narcotics: the Birthing Pavilion and the Operating Room. The acquisition of these two decentralized automated cabinets and the training of staff in the use of this new equipment represents a total investment of $171,000. Did you know that medication errors account for more than 50% of reported incidents in Quebec hospitals? By donating to the BMP Oktoberfest, sponsors and participants have helped to minimize these errors at the Brome-Missisquoi-Perkins Hospital. Thank you for your support!
Thanks to Danny Landry for the wonderful photos: