Virtual Walk to Fight All Cancers
The Brome-Missisquoi-Perkins Hospital Foundation and the Yamaska Valley Optimist Club are pleased to announce that the Virtual Walk to Fight All Cancers ended on Wednesday, November 2nd. Thanks to all the participants, donors and sponsors, the Virtual Walk raised the magnificent sum of more than $76,000! THANK YOU!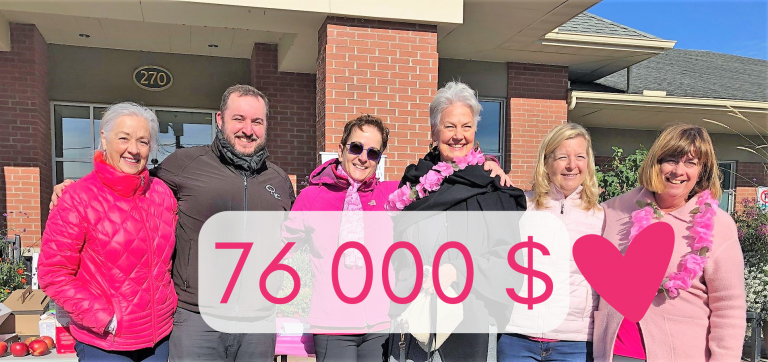 A virtual walk for everyone's safety
Once again, this year, the Walk to Fight All Cancers was held virtually for one month, from October 2nd to November 2nd, 2022. For the safety of all walkers, the Yamaska Valley Optimist Club organizers decided to maintain this format which allows all participants to walk where, when and with whom they want. This flexibility is greatly appreciated by the walkers who take advantage of it to transform the event into an individual or group challenge. This is the case of Friends For Life who get together every year for this occasion! With the support of their community, these three friends raised $9,580 for the Walk to Fight All Cancers!
LJH Transport and Distribution also contributed by organizing a two-week health challenge for its employees who had the opportunity to choose their personal challenge: many chose to walk; others did push-ups and sit-ups and one employee even decided to quit smoking! LJH Transport decided to offer $10 per day for each employee who completed a challenge. Thanks to this great initiative and the motivation of the employees, LJH Transport donated $2,530 to the Walk to Fight All Cancers 2022!
Thank you to them and thank all donors, past, present, and future, who are mobilizing and walking for their hospital's health care!
We would also like to thank Dr. Christine Cadrin, gynecologist at the BMP Hospital, who has accepted the honorary presidency of the event for another year. Thank you also to Ms. Johanne Coiteux and Ms. Louisa Gelinas, organizers of the Walk, as well as the president of the Yamaska Valley Optimist Club, Mrs. Judy Henderson.
Finaly, thank you to the sponsors of the Virtual Walk to Fight All Cancers: Julie Coderre Jean Coutu Pharmacy and the Team McGale-Charpentier-Côté of National Bank Financial for their commitment to the cause.
Several pieces of equipment to improve health care
The Walk to Fight All Cancers will help to finance the acquisition of several pieces of equipment for the Brome-Missisquoi-Perkins Hospital for a total value of nearly $100,000: a new Novasure machine ($14,000), vital signs monitors ($33,000) and $50,000 worth of equipment for the Operating Room to improve the quality and access of care and increase patient comfort. The Novasure device is essential to treat women diagnosed with cancer. This system allows the ablation of the endometrium by radio frequency emission. This technique offers a safer and more comfortable procedure for patients. During treatment in the oncology department, vital signs monitors are an important addition to track patient health and allow for quick response in case of emergency. With 10 new devices installed on the walls near each treatment chair, caregivers will have quick and easy access to them.
Here are some pictures of the press conference and the walkers: